Ford Drives U Graduate Program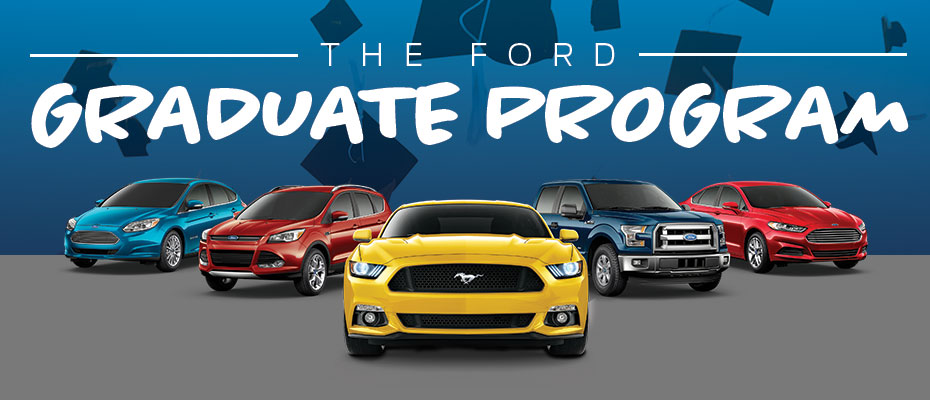 The "broke college student" stereotype exists for a reason. Between the rising cost of tuition and how much money students spend on textbooks every semester, the prospect of purchasing a new car can seem like a distant post-graduation dream.
However, Ford is here to help college students make a new car happen. With the Ford Drives U program, eligible college students can apply for a $500 incentive and better finance rates on a great new Ford like a Fiesta or Focus. Now that distant dream of owning your own brand-new car can become a not-so-distant reality!
Eligible candidates can sign up for the $500 in bonus cash right on Ford's website. Fill out the easy-to-use form on the website to see if you're eligible for the program. Once you sign up, you're pre-registered until Ford approves you for great rates through Ford Credit.
In order to be eligible for this program, you must be one of the following:
- A full-time or part-time student at an accredited four-year college or university, junior college, community college, or trade school
- A student who graduated between the dates of May 1, 2014 through January 3rd, 2017 (yes, recent graduates are still eligible!)
- A student in an accredited Graduate School program
The Ford Drive U program began January 5, 2016 and will end January 3, 2017. Only Ford vehicles in the model years 2016 and 2017 are applicable. In order to become approved for the program, you must bring Proof of Student Eligibility, including a copy of your diploma, a copy of your final transcript, a letter of intent, or proof of enrollment status such as a current class schedule, reported card, or a dated letter from the school itself. Current student applicants must be enrolled in at least two classes or the equivalent of six credit hours.
Sales Hours
| | |
| --- | --- |
| Monday | 9:00 am - 9:00 pm |
| Tuesday | 9:00 am - 9:00 pm |
| Wednesday | 9:00 am - 9:00 pm |
| Thursday | 9:00 am - 9:00 pm |
| Friday | 9:00 am - 7:00 pm |
| Saturday | 9:00 am - 6:00 pm |
| Sunday | Closed |
After you enroll in the Ford Drive U program, the next step is finding the right car for your post-grad life! Browse the Friendly Ford website to view our current inventory of new Ford cars, which includes affordable new cars like the Fiesta, Focus and Fusion. Not seeing something that fits your budget? You can also check out Friendly Ford's wide inventory of used cars that includes plenty of makes and models.