Tire Service in Roselle, IL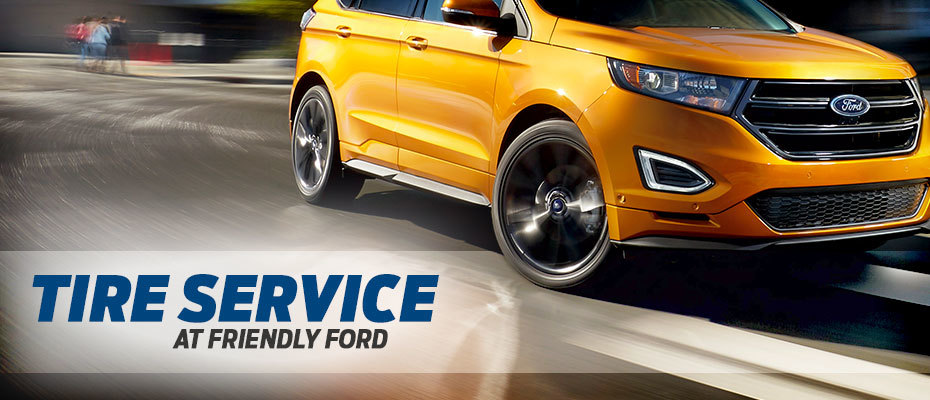 Regular tire service is essential to help your vehicle perform at an optimal level. Misalignment, bald or damaged tires—these issues can do more than ruin your day. In the end, keeping your tires healthy is a matter of safety. The following tire services will help you stay safe on the road and help you improve your vehicle's lifespan, and are all available at Friendly Ford in Roselle, IL!
Inspection
An inspection involves a thorough examination of your car's tires for damage. During an inspection, service technicians will check for dangerous bulges in the sidewall, broken inner bands within the tire, objects that could have penetrated the tires and tire pressure. Inspections are generally standard with service appointments, but more detailed check-ups can also be arranged.
Alignment
When your alignment is off, your steering wheel may pull. Bad alignment can also result in your steering wheel not being straight even when you are driving in a straight line. Misalignment not only makes it difficult to handle your vehicle, it can cause your tire tread to wear out prematurely. You should have your vehicle aligned at least once a year or if you sense something is off.
Rotation
Tire rotation is important because your tires do not wear out uniformly. Regularly rotating your tires ensures that you get the most life out of your tires. Tire rotation is typically done by moving the right rear tire to the right front position and vice versa. Sometimes the tires are rotated in an X pattern. Tire rotation should occur every 5,000 to 8,000 miles.
Tire Replacement
The general rule of thumb is that tires should be replaced when the tread has worn down to 1/16th of an inch. Keep an eye on your tires. You can even measure them yourself by placing a small ruler between the tread ribs. Bald tires can create accidents, so be sure to check this frequently!
The easiest way to keep your tires in good health is to have them checked regularly by the service experts at Friendly Ford! Our team will help you keep your WHOLE car in great shape, from the front bumper to the back. Call us now or schedule an appointment online! We're proud to serve customers in Itasca, Schaumburg, Roselle and Chicago, IL!