Vehicle Warning Signals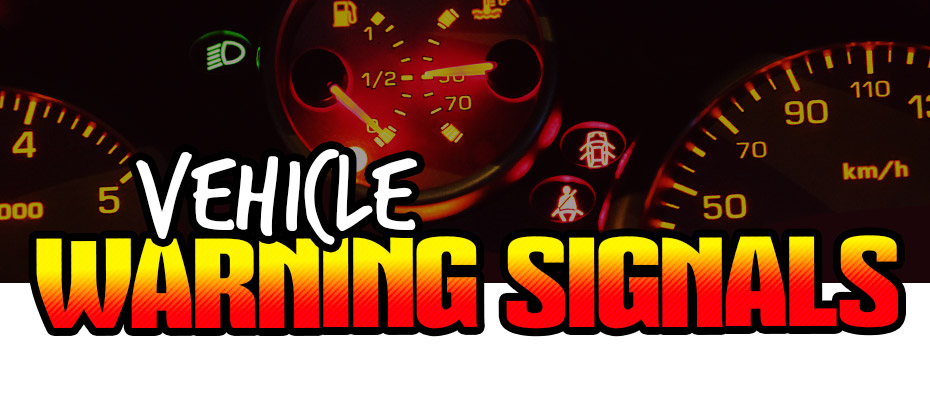 Your vehicle's dashboard warning signals are a sure sign there's something wrong with your car. The warning lights usually erase all doubt, but do you know what to do if you see them? Some lights are more critical than others and indicate a major problem. Other lights indicate a minor problem that can be taken care of when you reach your destination. Her are a few vehicle warning lights and what action to take if you see them.
th all your maintenance needs, including oil changes, filter replacements and detailed repairs. For more information, browse our website or give us a call today!
Tire Pressure Warning Light
This light looks like one of the ghosts from Pac-man with an exclamation point in it. What it actually indicates is that one or more of your tires has low pressure and should be attended to sooner rather than later. Depending on how deflated your tire is, this problem can be taken care of once you reach your destination, provided you're within a few miles. If the tire is completely flat, the rim could take significant damage and need replacing. Rotating your tires ensures the treads wear both slower and more evenly.
Oil Pressure Warning
This light looks similar to a genie's lamp or kettle. It means that your engine doesn't have enough oil or there's a problem with the oil pressure system. Unless you're nearly pulling into your driveway, pull over and call for roadside assistance. Driving with low oil pressure can damage an engine and affect power output, fuel economy, and other major factors. Pull out the dipstick after letting the car sit in the off position to let the engine cool. If the oil level is low, simply add more oil to the engine. Make sure to schedule a service appointment sooner rather than later.
Battery Alert
This light takes the shape of a LEGO with "minus" and "plus" signs inside. It means that the charging system is running low on power or that the car is running on the battery alone. The latter isn't necessarily a problem, provided you haven't turned the key all the way. If your car's charging system is short on power, replace the battery before hitting the road.
Service Hours
| | |
| --- | --- |
| Monday | 7:00 am - 5:00 pm |
| Tuesday | 7:00 am - 5:00 pm |
| Wednesday | 7:00 am - 5:00 pm |
| Thursday | 7:00 am - 5:00 pm |
| Friday | 7:00 am - 5:00 pm |
| Saturday | 7:00 am - 3:00 pm |
| Sunday | Closed |